Share
Future directions for scientific advice in Whitehall
18 April 2013
The Centre for Science and Policy's 2013 annual conference, held on 18 April at the Royal Society in London, brought together some of the country's most eminent professionals working at the intersection of science and policy.
View a snapshot of the day here:
The keynote address at the conference was given by UK Government Chief Scientific Adviser, Sir Mark Walport – his first major public speech since taking office on 1 April 2013.
View Sir Mark Walport's talk here:
Sir Mark's presentation slides can be downloaded here.
Watch CSaP's Founding Director, Dr David Cleevely, in conversation with Sir Mark Walport at the event:
Session 1: Future directions for scientific advice in Whitehall

Professor James Wilsdon (Professor of Science and Democracy, University of Sussex) chaired the morning discussion inviting contributions from Dr Claire Craig (Deputy Head of GO Science), Dr Laura Haynes (Head of Policy Research, Behavioural Insights Team, Cabinet Office), and Dr Ulrike Hotopp (Defra's Director of Analysis and Chief Economist).
To view the talks, see here:
Launch of the Future Directions collection of essays
Co-edited by Dr Robert Doubleday (CSaP's Executive Director) and James Wilsdon, the collection includes essays by Sir John Beddington (former Government Chief Scientific Adviser), Dr Geoff Mulgan (Nesta), and Jill Rutter (Institute for Government).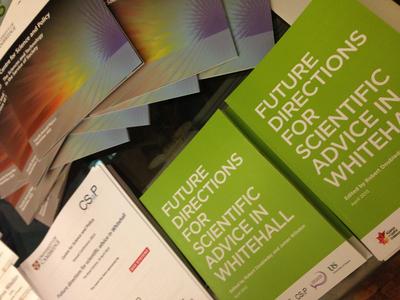 To read more about the collection, and to download a digital copy, click here
Poster Session
Cambridge University Science and Policy Exchange (CUSPE) – a CSaP-supported student society at Cambridge – organised a poster competition for early-career researchers, covering various research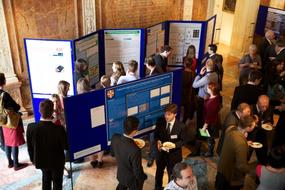 topics with potential implications for policy making. PhD student, Nick Jones (Centre for Diet and Activity Research, University of Cambridge) was the winner of the competition, presenting a poster of his research on the affordability of a healthy diet.
Download the full list of poster presentations here.
CUSPE President, Patrick Wollner, discusses the opportunities available for early career researchers interested in policy:
Case study seminars: CSaP Fellows discussed practical lessons from working with academia
Led by CSaP Fellows, this session offered delegates a choice of attending one of three seminars on lessons drawn from recent examples of working in partnership with academic experts to tackle policy problems.
Seminar 1: Reducing greenhouse gas emissions from transport
Speakers: Graham Pendlbury (DfT), Professor Neville Jackson (Ricardo plc), Dr Robin North (Imperial College London)
Seminar 2: Improving the relationship between national security challenges and research
Speakers: Dr Tristram Riley-Smith (Centre for Science and Policy), Mark Phillips (ADS Group), Professor Derek Smith (University of Cambridge)
Seminar 3: A systems analysis approach to ageing
Speakers: Andrea Lee (DCLG), Philip Guildford (University of Cambridge), Halima Khan (Nesta)
Download the presentations here:
Graham Pendlebury, Professor Neville Jackson, Tristram Riley-Smith, Halima Khan
Panel discussion - experimental government
From RCTs, to making better use of analytical tools to realise the potential of administrative data – can government make better use of scientific methods? This session saw contributions from Dr David Cleevely (CSaP's Founding Director), Jill Rutter (Programme Director for Better Policy Making, Institute for Government), Professor Theresa Marteau (Director of Behaviour and Health Research Unit, University of Cambridge) and Graham Pendlebury (Director, Local Transport, Department for Transport).
Listen to the panel discussion here:
The conference concluded with a keynote speech by Sir Bob Kerslake, Head of the Home Civil Service.
CSaP Associate Fellow, Sir Bob Kerslake, recognised the vital role intermediary organisations such as CSaP have to play in helping ensure knowledge exchange between the worlds of academia and government.
Listen to Sir Bob's talk here:
Other conference news
CSaP announced £10m funding for research programmes
In his welcome address, Robert Doubleday announced CSaP's participation in research programmes that have collectively raised over £10m in funding over the past twelve months.
View Rob's welcome address here:
CSaP welcomed its 100th Policy Fellow
During the week of the conference, CSaP welcomed its 100th Policy Fellow since the first cohort began their Fellowships in 2010. Nominated from industry, government and civil society, CSaP Policy Fellows begin their two-year Fellowships with an initial five days at the University of Cambridge, meeting as many as 30 senior researchers. The schedule of meetings is designed by CSaP to address each Fellow's particular set of professional challenges.
At the conference, Policy Fellows Andrea Lee (Deputy Director DCLG) and Graham Pendlebury (Director Local Transport, DfT) shared their experience of the Policy Fellowships Programme:
Listen to Andrea Lee here:
Listen to Graham Pendlebury here:
To find out more about the Policy Fellowships Programme, click here.
Over 230 professionals from industry, academia and government attended the annual conference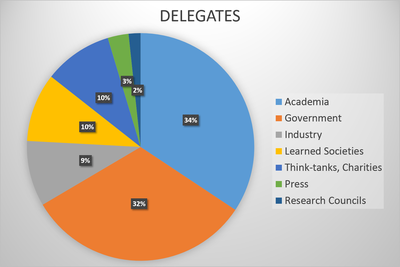 Debate throughout the day was lively, with over 80 mentions of #CSaP13 on Twitter…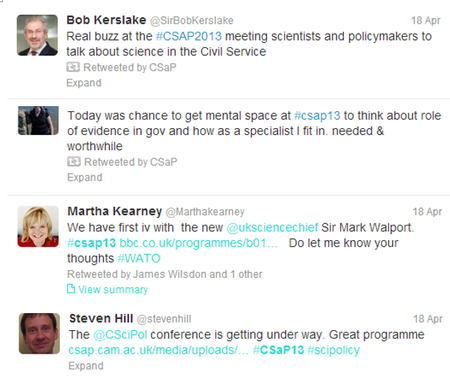 Join the conversation on Twitter: @CSciPol
See a summary of the conference on Storify: http://bit.ly/11qmyYh
View coverage of Sir Mark's presentation, and the launch of the collection of essays, in the Telegraph, Science and Times Higher Education
View more interviews with conference participants here:
Download the conference agenda here.
Join the CSaP group on LinkedIn: http://www.linkedin.com/groups/Centre-Science-Policy
Visit CSaP's youtube channel: http://bit.ly/10QXmAz
See upcoming CSaP events: http://www.csap.cam.ac.uk/events/
Conference Sponsors
The Centre for Science and Policy's annual conference was sponsored by the following organisations:
Organisations
17 June 2020, 9:30am
This year our annual conference will have a particular focus on topics that CSaP has worked on during the past year, with invited experts offering insights into some of the latest research that has the potential to inform decisions taken by policy makers.
1 May 2013
Over the past year, the total value of research grants won, of which CSaP's work forms a part, totalled over £10 million.