Research, policy and practice for innovation in the high-tech economy
---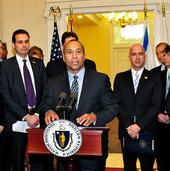 Overview
The Centre for Science and Policy (CSaP) and the Institute for Manufacturing (IfM) are jointly hosting a visit to Cambridge by the State Governor of Massachusetts, Deval Patrick, and his Innovation Economy Partnership Mission team. The visiting delegation combines leading business executives, academics and senior government officials, and is coming to the UK to explore opportunities within innovation-based industries – technology, life sciences and clean energy.
The discussions hosted by CSaP and IfM will centre on Research, Policy and Practice for Innovation in the High-Tech Economy, beginning at 15:00 with a panel discussion, and concluding with a "town hall" meeting. Between the two main sessions there will be opportunities for small-group meetings and networking with members of the Governor's delegation.
Attendance is by invitation only. If you would like to receive an invitation, please send an email to events@csap.cam.ac.uk
---
Agenda:
14:30 – Arrival & Registration
15:00 – Panel Discussion on Research, Policy and Practice for Innovation in the High-Tech Economy
Chair: Finbarr Livesey
Contributors:
Professor Sir Mike Gregory (Head of IfM)
Dr David Cleevely (Founding Director of CSaP)
Dr Tim Minshall (Senior Lecturer in Technology Management, IfM)
Dr Eoin O'Sullivan (Senior Policy Fellow, IfM)
Dr Graeme Reid (Deputy Director Economic Impact, Department for Business, Innovation and Skills)
Dr Julian Huppert (MP for Cambridge)
16:00 – Networking Opportunity
16.45 – Governor's "Town Hall" - "Collaborating as Leaders in the Innovation Economy"
An opportunity to talk with the Governor about increasing global economic development, job growth and investment opportunities. The conversation will focus on how the UK and Massachusetts can encourage greater collaboration in the innovation industries of information technology, clean energy and life sciences.
17:25 – Concluding Remarks (Dr David Cleevely)
17:30 – Close
---
Who should attend?
The audience will bring together academics, policy makers and practitioners of innovation in high-tech industries.
---
Venue
Institute for Manufacturing
Alan Reece Building
17 Charles Babbage Road
Cambridge CB3 0FS
If you would like to receive an invitation, please send an email to events@csap.cam.ac.uk
---
Speakers
---
Chairs
---
Website
State Governor's Press Release: http://www.mass.gov/?pageID=gov3pressrelease&L=1&L0=Home&sid=Agov3&b=pressrelease&f=110209_innovation_economy_mission&csid=Agov3