Dr Bruno Ehrler
---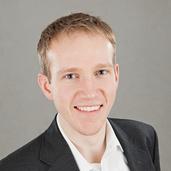 Trevelyan Research Fellow, Selwyn College
Optoelectronics Group, Cavendish Laboratory, University of Cambridge
Bruno is working on solar cells that incorporate semiconductor nanocrystals, a material that can be dissolved in order to use it as an ink. This could potentially make solar cells much more versatile and cheaper to produce because they could simply be printed on flexible substrates.
Bruno has recently combined these nanocrystals with an organic material known to have unusual properties in a solar cell. In a conventional solar cell every absorbed light particle produces a single charge. In the novel organic material a single absorbed light particle can produce two electric charges. This could lead the path to solar cells that circumvent the theoretical limit that dictates the maximum efficiency of conventional solar cells.
Before his position at the University of Cambridge Bruno's research at the University of London was focussed on the mechanics of materials on the microscale. He also worked in the industrial automation and as in intern for EMPA (CH) and McKinsey & Company.