Professor David MacKay
---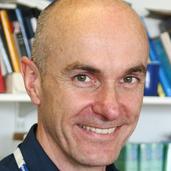 Chief Scientific Adviser, Department of Energy and Climate Change (DECC)
Associate Fellow of the Centre for Science and Policy
Professor David MacKay FRS, is the Professor of Natural Philosophy in the Department of Physics at the University of Cambridge and Chief Scientific Adviser to the UK Department of Energy and Climate Change (DECC).
David went up to Trinity College, Cambridge and received a BA in Natural Sciences (Experimental and Theoretical Physics) in 1988. He went to the California Institute of Technology (Caltech) as a Fulbright Scholar. His supervisor in the graduate programme in Computation and Neural Systems was John Joseph Hopfield. He was awarded a PhD in 1992.
In January 1992, David was made the Royal Society Smithson Research Fellow at Darwin College, Cambridge, continuing his cross-disciplinary research in the Cavendish Laboratory, the Department of Physics of the University of Cambridge. In 1995 he was made a University Lecturer in the Cavendish Laboratory. He was promoted in 1999 to a Readership and in 2003 to a Professorship in Natural Philosophy. He was elected a Fellow of the Royal Society in May 2009.
In 2008 he completed a book on energy consumption and energy production without fossil fuels called Sustainable Energy — Without the Hot Air, which is available for free online. He became CSA for DECC in September 2009 and was made an Associate Fellow of the Centre for Science and Policy in March 2010.
---
Website