Dr Miranda Gomperts
---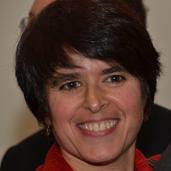 Head of Programme Development, Cambridge Public Policy, University of Cambridge
Dr Miranda Gomperts joined the Centre for Science and Policy (CSaP) in 2010 to set up the Cambridge Public Policy initiative. She has been responsible for the development of the new Master's course in Public Policy (MPP), which will launch in 2013. She drives a range of programmes that support and promote the public policy community inside the University and develops the profile of this community externally. She is also is actively engaged in raising funding for the initiative, particularly for bursaries for students on the MPP.
Prior to working in the field of public policy, Dr Gomperts worked as a research scientist for over 15 years; during which time her research focused on vertebrate molecular development and gene expression. Following the completion of her PhD and first Post-Doctoral position at the Wellcome Institute, University of Cambridge, Miranda was awarded a Human Frontiers Fellowship to work at the University of Washington (Seattle, USA). She returned to Cambridge to take up a Wellcome Trust Career Development Fellowship working again at the Wellcome Institute. In 2004 she left the bench to spend a year at the University of Canterbury (Christchurch New Zealand), in the Human Interactions with Technology Lab, where she developed a programme of lectures and training materials for A-Level science teachers.
Upon returning to the UK in 2005, she took up Directorship of the International Science Summer Schools at the Institute of Continuing Education, where she remained for three years.
In 2007 Miranda was appointed the Director of the Darwin Festival at the University of Cambridge and over the following two years drove the major programme of celebrations to mark the bicentenary of Darwin's birth.