100 Days - a long time in policy?
---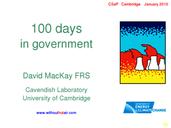 A lecture by Professor David MacKay describing his first 100 days in Government: His academic colleagues told him it would be frustrating, but David Mackay is enjoying his new role as Chief Scientific Adviser in the Department of Energy and Climate Change, working alongside civil servants who are passionate about their work and excited by the science of the challenges they face.
This was the starting point of Professor Mackay's lecture My First 100 Days in Government the inaugural event in the CSaP's Distinguished Lecture series delivered on 18 January. He described the role of science in formulating energy and climate change policy and the environment in which the actors in this process (scientists civil servants ministers and media) work together. An audience of over 100 took part in an extended Q&A session covering questions of vested interests and lobbying the source of policy leadership and the need for behaviour change - as well as the importance of critically examining the concept of "need" itself.
Professor Mackay highlighted the surprises in his first 100 days. He noted particularly the readiness of some in the media to report selectively inaccurately or on the basis of spurious sources (see here); and the existence of what he called "invisible walls" between civil servants and MPs other than the few ministers in their home departments. He also observed how cautious civil servants are about discussing extreme cases even as hypothetical limits for fear that such discussions will be picked up and such cases quoted as if they were policy.
Equally striking were the contrasts in timescales (or "drumbeats") in policy making - on the one hand it can take three years to complete the process of preparing evidence analysing it going to consultation with stakeholders and the public iterating on analysis and consulting again and finally publishing a policy whereas on the other hand it can be necessary to respond to questions and challenges in three days. Civil servants must be able to operate in both modes simultaneously.