Junior Policy Fellowship piloted
---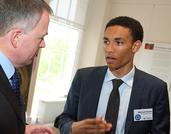 This term, CSaP is ramping up the pilot of its Junior Policy Fellowships programme. Building on the success of the existing Policy Fellowship (which is aimed primarily at the Senior Civil Service), the new scheme is designed to inspire the next generation of policy makers and researchers to build connections which will grow and develop with them as they go forward in their careers. By selecting from the most promising young policy professionals in government and industry and matching them up with the leading young researchers of their generation, it will create a joined-up cohort of ambassadors for the value of scientifically-literate policy making.
Two new Junior Policy Fellows will make their first visits to Cambridge this term - Chris Ganje (Policy Advisor, BP) and Frank Davies (Consultation Team Lead, Child Poverty Unit - jointly sponsored by the Department for Education, the Department for Work and Pensions, and HM Treasury). Chris will focus on emerging technologies, particularly novel approaches to public and private investment which might help to promote the commercialisation of emerging technologies and the transition to a more sustainable energy future. Frank's Fellowship will focus on the role of social policy interventions in security policy, with particular reference to developed and middle-income countries.
Specific invitations to meet these Fellows will be issued in the coming weeks, but researchers who would like to meet any of them are welcome to email and ask to be included in the schedule.
The fees, terms and conditions and application procedures for the Junior Policy Fellowship are the same as for the core programme (see here). For an informal discussion, please call Dr Nick Gray on 01223 768392.