Share
The launch of the CSaP Policy Fellowships Programme
CSaP's Policy Fellowships Programme is being scaled up to 30 new Fellows for the next academic year following the success of a pilot programme which, over the past year, has brought policy professionals from government and industry face to face with researchers in science and engineering.
"When we elected our first Fellows in May last year, we didn't know how this would evolve," said Dr David Cleevely, CSaP's Founding Director, speaking to a gathering of more than a hundred people at the Institute for Government on 6 July, when the Centre marked the formal launch of the programme. "We were lucky enough to have the support of our funders, particularly the David Harding Foundation, who gave us free rein to experiment. One year on, we're delighted at what's being achieved, and very excited about the opportunities to develop the scheme further."
Most of the Centre's 19 current Fellows joined the meeting, including Director-level officials from government departments such as the Department for Business, Innovation and Skills, Department of Energy and Climate Change, Home Office, Department for Transport, and Department for Communities and Local Government, as well as senior business people from BP, Pfizer and BAA.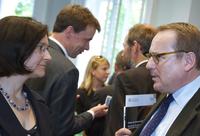 They met with potential future Fellows and a good turnout of researchers, for discussions that ranged widely across the topic areas covered by the programme in its first year, such as the policy implications of advances in nanoscience, synthetic biology, and stem cell medicine; the physics, engineering and biotechnology of renewable energy and sustainability; the exploitation and conservation of ecosystems services; how models other than economic rationality can predict behaviour; the latest developments in security technologies; risk resilience and the precautionary principle; trust, including public trust in science and government; the nature of innovation in society and the economy; and climate change adaptation, particularly in the transport and energy sectors.
The meeting heard how the one-to-one connections between researchers and policy makers created by the programme have already demonstrated their value. Following David's introduction, the attendees hear from three of the current Policy Fellows – Adam Heathfield, Director of Science Policy at Pfizer; Alan Pratt, Director of Science, Engineering and Technology at the Home Office; and Bob Sorrell, VP for Public Parterships at BP – each providing an insight into their experiences as a Policy Fellow to date, and their plans for ongoing involvement.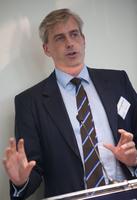 Adam – himself a former civil servant in the Cabinet Office – emphasised how the Policy Fellowship has contributed to both the rigour and creativity of his work on some key policy topics facing his company, providing a stimulating antidote to some of the discussions the pharmaceutical sector gets engaged in where they "see the same policy issues coming up again and again." He commented:
"The week I spent at Cambridge and subsequent meetings have been great at refreshing the sometimes stale discussions that we have with familiar external commentators and with other pharmaceutical companies. The most surprising conversations were with the guys in the History and Philosophy of Science department, discussions about conflict of interest. We [Pfizer] needed to change how that discussion was located and how we thought about it; we've had incredibly helpful follow-up conversations in our company. If you want to refresh and open up the way you are thinking about a policy question, it's a really great programme to take part in."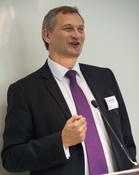 With responsibility for the leadership of science and technology across policing, crime, border security, counter terrorism and identity, Alan had a lot of ground to cover when he came to Cambridge for a week in May. He described the benefits of his first week as calibrating his thinking, making sure he was up-to-date on the science, and challenging his world views. He found the interdisciplinary nature of the meetings particularly productive, citing conversations such as "what do computer science, engineering and international politics have to say about video surveillance?", "what do the history of science and ethics have to tell us about public acceptance of risk?" and "what is the nature of innovation?"
But the comment that resonated most strongly with our audience was on the importance of building a network, and the two-way nature of the exchange: "Academia isn't amenable to a telephone book approach. There is no single place I could go to find the answer to a very specific problem, and the way to get to those places is through knowing people that know people, and having the sorts of conversations that unlock the facets that are worth exploiting.
"I hope that the research community also benefited from our conversations, each of which was rich, two-way and dynamic – testing the applicability of the ideas coming out of their research, and understanding whether the things that they thought of as being important and policy-relevant are really going to survive contact with my kind of environment."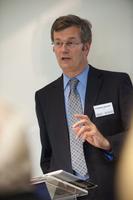 Rounding off the speeches, Bob (one of our very first Policy Fellows, elected in September 2010) recalled the "breadth and range of conversations" that he experienced and how well they mapped on to the "whole range of policy issues that BP was being asked to comment on". As well as broadening his thinking around the subjects he expected to cover (innovation, energy policy, climate change and so forth), he found himself in a discussion on modelling:
"So I turned up for this and immediately got engaged in a series of conversations on risk – I'd expected one thing and then got engaged in a whole series of conversations about something else. It totally stretched my thinking and as a consequence we had very interesting follow up discussions with the people in Cambridge. I'm struck by how the people interested in the subject came from a huge diversity of different disciplines – from stats to geography – and how they got together because they have an energy on this subject. I was able to join in their enquiry and link up bits of BP into it."
Other impacts that he described came out of discussions on India and China: "I think everyone knows about the growing R&D capability in those regions. What struck me was the way to think about those in the context of managing a global innovation ecosystem, and that really shaped my thinking and the way BP thinks about managing innovation in a global context. Plus the discussions around cross-sector collaboration really opened up my thinking on how we could develop the connection between the medical and the energy businesses."
All three speakers thoroughly recommended the Policy Fellowships Programme – both the intense programme of meetings with researchers, and the ongoing opportunities to engage. As Bob put it: "When do you get the chance to spend a whole week in complete immersion in a subject in this way? It's a fantastic opportunity" – while he also emphasised the contribution to the dialogue between government, the private sector, and the public sector which is critical to good policy making, citing planned sessions on energy investment policy and biofuels. And as Alan concluded: "I will come back to follow up on leads, present at your courses, and play a part in the studies that you are going to be taking forward. I will be sweating the network of Cambridge and I'm up for you drawing on me as a resource. As well as benefiting the day job, this will also benefit the continued strengthening of the relations between academia and the work we do in government."
For more information on the Policy Fellowships Programme, see here or email policyfellows@csap.cam.ac.uk.
(Banner image from Cheddarcheez via Flickr)