Policy Fellowships reach the heart of UK government
---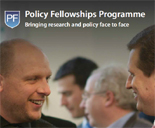 The latest Policy Fellows announced by the Centre for Science and Policy show how the programme is bringing the policy implications of scientific research right into the heart of UK government.
Two of the new group of Fellows, Rohan Silva and Ivan Collister, work in the 10 Downing Street Policy Unit. Both will be visiting Cambridge in October for discussions on a wide range of topics, including social policy issues, biodiversity, procurement, transformative technologies, and innovation and the growth agenda. On the last of these topics they will be following hard on the heels of BIS's Director of Innovation, John Dodds.
Later in the term, they will be followed by CSaP's first Fellow from the Treasury (Creon Butler, Senior Adviser, International and European Union Group), whose interests centre on the opportunities and risks which developments in science and technology pose for the future shape of the UK economy and its relative position in the global economy.
The programme will also shortly be welcoming its first Fellows from the Ministry of Defence, including Alex Churchill, Deputy Head of Science & Technology Strategy, who will explore questions around the costs of sustaining critical capability in areas of technical need, and the risks and opportunities posed by new technologies. Michelle Richmond of the IET and government strategy analyst Rupert Koci-Edwards will also visit during the Michaelmas term; other upcoming announcements will extend the Fellowship's reach into the European Commission and multinational corporations.
The Policy Fellowships Programme provides a "pathway to impact" by enabling leading researchers to explore the implications of their research directly with senior civil servants and industry decision-makers. Specific invitations to meet these Fellows are being issued, but researchers who would like to meet any of them are welcome to email policyfellows@csap.cam.ac.uk and ask to be included in the schedule.