Newsletter - July/August 2011
Message from the Executive Director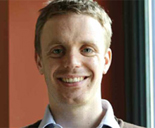 As CSaP's second full year draws to a close, I have been reflecting on the Centre's progress.
In the first year, 2009/10, we focused on consulting with the academic and policy communities on what the Centre's role should be – the conclusion being that we should provide a neutral platform for building connections between academics and policy makers.
This past year has seen the development of programmes that are delivering on this goal, and more: the Policy Fellowships Programme; Policy Workshops; Professional Development Seminars; and networking events that bring together the full range of stakeholder communities – business, academia, government and the third sector.
The Centre has rapidly matured from an idea into reality, and has in the process helped change the way that researchers and policy makers interact – the Policy Fellowships Programme, of which more below, is a case in point. Our network now numbers more than 3,500, and our valued partnerships with key government departments and with leading experts in the sciences and engineering continue to evolve and flourish.
Our plans for 2011/12 are ambitious. Having formally launched the Policy Fellowships Programme in July, we are expecting to see annual intake increase from 19 to 30 by the end of 2012; we will run Policy Workshops on a range of topical and challenging issues (such as risk and uncertainty, and neuroscience); our work with early career researchers will extend beyond the University of Cambridge; and we will develop our fundraising activities to enable the continued growth of the Centre.
In this issue:
The launch of the Policy Fellowships Programme
New Policy Fellows announced
Forthcoming Events
News in Brief
Chris
Dr Chris Tyler
Executive Director
Centre for Science and Policy
University of Cambridge
Policy Fellowship Programme launched
There is no clearer example of how CSaP is changing the way that researchers and policy makers interact than the Policy Fellowships Programme. Between May 2010 and June 2011, we completed the pilot phase, electing 19 Fellows: twelve from Whitehall (covering seven government departments); four from industry; and one each from the Welsh Government, the World Health Organisation, and the French Embassy in London. Together, they met with more than 150 researchers and generated more than 400 interactions.
Each Policy Fellowship begins with an initial intense week of meetings with researchers, selected for their relevance to the Fellow's policy interests. One year into the programme, the ongoing impacts of such tailored introductions are already becoming clearer, particularly as the network begins to take on a life of its own, with researchers visiting Whitehall and policy makers visiting Cambridge for follow-up discussions and more formal interactions, including workshops and lectures. As ever, we see the benefits flowing in both directions, with research contributing to the evidence base for policy, and exposure to government helping researchers to understand better how to identify and explain the implications of their work.
We formally launched the Policy Fellowships Programme on 6 July at an event in London, at which more than 100 policy makers, researchers and business representatives were present - or, as one attendee put it: "a who's who of the science and policy world". A write up of the event can be found here.
New Policy Fellows announced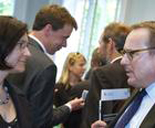 In 2011/12, the Policy Fellowships Programme is being scaled up to accommodate 30 new Fellows. The first group of these will include policy professionals from the Department of Business Innovation and Skills, Natural England, the Department for Culture Media and Sport, the Government Office for Science and BT. We will also be welcoming our first Policy Fellows from the European Commission.
We also expect shortly to agree arrangements with the senior advisers and policy makers from 10 Downing Street, the Cabinet Office, HM Treasury and the Ministry of Defence, and we are in discussions with potential industrial fellows from the IT, aerospace, automotive, construction and pharmaceutical sectors.
You can read more about the next cohort of Policy Fellows here.
Forthcoming Events
Consumer Networks and the Diffusion of Power - 8 & 9 September 2011
Cambridge Public Policy is working with YouGov@Cambridge to organise this two-day event, which gives attendees the opportunity to share insights on the growing voice and power of online consumers and social crowds in today's business and political environments. As part of the event, YouGov will publish the results from new polls in Pakistan and the Arab Spring regions - two areas where the effects of grassroots empowerment are being felt. For more information please see here.
Well-being Seminar - 29 September 2011
In November 2010, the Office for National Statistics (ONS) launched a national debate on measuring the nation's well-being. Since then, the ONS has been developing a set of measures complementing economic indicators such as GDP that have traditionally underpinned assessments of 'how the UK is doing', covering the quality of life of people in the UK as well as environmental and sustainability issues; in July, it published a report setting out the key findings from the debate and an outline of next steps. CSaP is working with Professor Felicia Huppert, Director of the Well-being Institute at the University of Cambridge, to organise an event on 29 September in London to discuss the key findings of the report and next steps. See here for more information.
10th Anniversary of the Technology Policy MPhil - 30 September 2011
CSaP is supporting the 10th anniversary celebration of the Cambridge MPhil in Technology Policy. Together we are putting on a symposium that will cover science and technology advice in Whitehall and the politics of science and technology policy. The event will be by invitation only.
Cambridge Public Policy Seminar Series
A new series of CPP seminars begins on 14 October with a talk by Dr Jonathan Trevor (Co-Director of the Centre for International Human Resource Management in Judge Business School) on "Post-bureaucratic public services: future capabilities". These talks will take place in Cambridge on Fridays from 1-2pm throughout the Michaelmas term, and will bring together a diverse range of individuals from the humanities, as well as social and natural sciences, to discuss the public policy implications of their work and research. See here for more information on this, and other seminars in the series.
The Uses and Abuses of Opinion Polling - 26 October 2011
Cambridge Public Policy together with YouGov@Cambridge are organising a series of workshops on public opinion polling. The first workshop in this series will take place at Emmanuel College, Cambridge on 26 October. These workshops seek to combine the perspectives of both professional pollsters and academics to address issues of how opinion-polling is used and abused, and the basics of good survey research. The first three workshops will be led by Joe Twyman, Head of Social and Political Research at YouGov, alongside Laurence Janta-Lipinski, Senior political researcher at YouGov. For more information, please see here.
David Clary Lecture - 31 October 2011
The first Secretary of State for Foreign Affairs was appointed in 1782, but it took another 227 years for the Foreign and Commonwealth Office to appoint its first Chief Scientific Adviser. We are delighted that CSaP's sixth Distinguished Lecture will be given by the first holder of this post, Professor David Clary FRS. The Lecture will take place in Cripps Court Auditorium, Magdalene College, Cambridge. You can read more about the lecture and book a place here.
Professional Development Policy Seminars for Early Career Researchers
The Centre is planning two Professional Development Policy Seminars for the Michaelmas term to enable PhDs, post docs and early career lecturers to explore the realities of, and opportunities for, engaging with policy:
11 November 2011: The CSaP is collaborating with the Society of Biology to host the first of these seminars for early career biologists from a range of disciplines and interest areas. Confirmed speakers include Professor Christopher Whitty (Chief Scientific Adviser at DfID), Mr Gary Kass (Principal Specialist, Evidence & Analysis Team, Natural England) and Dr Miles Parker (Deputy Chief Scientific Adviser at Defra). More information on the seminar, including how to apply for a place, can be found here.
9 December 2011: The second seminar has been organised in collaboration with Cambridge University Engineering Department (CUED) for early career engineers, and takes place in the University Centre, Cambridge. Confirmed speakers include Professor Dame Ann Dowling (Head of CUED), Professor Robert Mair (Head of Civil and Environmental Engineering, CUED), Professor Ian Poll (Professor of Aerospace Engineering, Cranfield University and Chairman of the Defence Scientific Advisory Council), Professor Jeremy Watson (Chief Scientific Adviser at the Department for Communities and Local Government), Dr Chris McFee (Head of Civil Contingencies, Government Office for Science), Professor Brian Collins (former Chief Scientific Adviser at the Department for Transport) and Dr Tony Whitehead (Director of Governance and Policy, Institution of Engineering and Technology). For more information on how to apply for a place, please see here.
News in Brief
Threats to the University, Science and the Humanities
Despite the huge amounts of research being generated in fields barely imaginable a generation ago, some consider the reputation of science and universities to be at an all time low. The "Threats to the University, Humanities and Science" conference, co-organised by the University of Cambridge and Arizona State University, brought together leading figures from academia and policy to discuss the range of challenges which will shape the next ten years of academia. In a session supported by CSaP, Lord Rees, Baroness Perry, Professor Lawrence Krauss (ASU), Dr Matthew Freeman (University of Cambridge) and Dr James Wilsdon (Royal Society) discussed miscommunication between scientists and policy makers. You can read more about the discussion here.
New Chair of Defra's Science Advisory Council
Professor Chris Gilligan, Head of the School of Biological Sciences and Professor of Mathematical Biology at Cambridge, has been appointed as Chair of Defra's Science Advisory Council (SAC). The SAC provides support to Defra's Chief Scientific Adviser, Professor Bob Watson, so that he can independently challenge and promote the use of evidence in policy making in Defra.
Job Opportunities
Deputy Director of the Newton Institute: The Newton Institute in Cambridge is appointing a Deputy Director. Further particulars can be found here. The position is 50% part-time on the Senior Lecturer scale. The closing date for applications is Monday 26 September.
The Banting Fellowship: Carleton University in Canada is seeking candidates for a prestigious post-doctoral fellowship which has the potential to lead to a faculty position. The successful candidate will support a new initiative in Carleton's School of Public Policy developing new graduate degrees with a focus on science-based regulation. The Fellowship pays CAD70,000 per year for two years. For more information on how to apply, please see here.
A debt of gratitude
CSaP would like to thank the David Harding Foundation and the Isaac Newton Trust for their donations which made the Centre's creation possible.