Newsletter – February 2011
Message from the Executive Director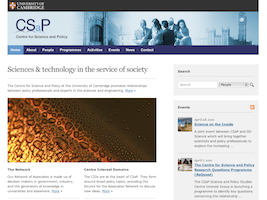 CSaP's new website
The big news this month is that we have launched a new website. There were two key goals in designing this new interface. The first was to provide a cleaner, faster website, which we hope you will find easier to navigate.
The second was to ensure that our online presence should reflect our networking mission by building the structure of the website around people – the members of the growing CSaP Network. This has been achieved by revamping the public profiles pages (mine is here) and by linking them to the various programmes, events and projects that we facilitate. It is now possible to navigate the website by starting with people: for example, researchers or policy professionals whom you may have met at a CSaP event or through a CSaP programme.
Many of you have already requested a public profile page, and these will be appearing gradually in the coming days. If you haven't already asked but would like a profile page, please send your request via email for the time being; the process will be more automated in the future.
Not everything is live yet and there will be a few glitches (please let us know if you find any). But your experience on our website should already be more satisfying and you should get a feel for the way it is developing. We hope that you enjoy using it.
In this edition of our newsletter:
Risk and Uncertainty
Policy Fellows
Science on the Inside
News in Brief
Dr Chris Tyler
Executive Director
Risk and Uncertainty
Policy interest in risk and uncertainty is growing. Recent events, such as the economic crisis, threats of pandemics and climate instability, have contributed to this growth in interest, as has on-going work by the Government Chief Scientific Adviser on high-impact, low-probability events.
Following a meeting with Professor David Spiegelhalter, Professor John Crowcroft and members of the Centre for Risk Studies, CSaP is taking steps to initiate a discussion around two issues related to risk and uncertainty:
Precautionary policy. Acknowledgement of deeper uncertainties has led to widespread use of the precautionary principle or 'reasonable worst case scenario'.
Resilience. Instability in complex systems – e.g., economies, natural resources, infrastructure – require policies that guard against both foreseeable and unforeseen shocks.
The intersection of precaution and resilience provides a rich ground on which to bring together the latest academic thinking, cutting edge business practice and policy experience. Over the coming weeks and months we will support a growing number of CSaP Associates who have already declared an interest in this area. Please let us know if you would like to be updated on the progress of this programme.
Policy Fellows
Many thanks to all the members of our network who met visiting Policy Fellows during February. All the Fellows have underlined how valuable the programme is proving to them – Stephen Aldridge (Director of Strategy and Innovation at CLG) was typical of all four of our visitors during the month in calling it "a great programme" and emphasising that what he learned and the contacts he made "will be of huge value in the months and years ahead".
Our next Policy Fellow, in March, will be Phil Wynn Owen from the Department of Energy and Climate Change. As Director General, National Climate Change & Consumer Support, Phil heads up the team responsible for encouraging the transition to a low-carbon economy. In the Easter Term, as well as the senior visitors from the Home Office, Department for Transport and GO–Science mentioned in our last Newsletter, we will be hosting the next of our Industrial Policy Fellows – Philip Langsdale, Chief Information Officer of BAA, whose interests include security, risk and resilience, innovation, efficiency in complex resource management, and climate change adaptation in the transport sector.
Science on the Inside
Over the past decade, scientific advice in Government has become more co-ordinated and has broadened its reach across a greater number of departments and policy units. On 28 April, CSaP and the Government Office for Science will hold a seminar to bring together scientists and policy professionals to explore the increasing impact of science on policy from the perspective of practitioners.
The seminar will be held in London and chaired by Lord Willis, and we have a great panel of speakers. Discussion will focus on what the panellists have learned about scientific research and its relevance to the improvement of public policy, as well as how a science presence inside Whitehall has contributed to the understanding of what universities are for. You can read more about the seminar here.
News in Brief
"Innovation Economy" visit by the Governor of Massachusetts
CSaP, together with the Institute for Manufacturing, will co-host a visit to Cambridge on 15 March by State Governor Deval Patrick's "Innovation Economy Mission", a delegation of business executives, academics and government officials exploring opportunities within innovation-based industries (technology, life sciences and clean energy). The discussions hosted by CSaP and IfM will centre on research, policy and practice for innovation in the high-tech economy, beginning at 15:00 with a panel discussion, and concluding with a "town hall" meeting; more details are on our website. Attendance will be by invitation only – to request an invitation please email Dr Nick Gray.
New Associate Fellows
We are delighted to welcome two new Associate Fellows. Professor Brian Collins is Chief Scientific Adviser at the Department for Business, Innovation and Skills, and has been a frequent and valuable contributor to many CSaP events, including Policy Workshops on Innovation and various consultation meetings.
Andrew Gamble is Professor of Politics and Head of the Department of Politics and International Studies (POLIS) at the University of Cambridge. Andrew is a frequent adviser to the Centre on matters of interaction between expertise and policy. He also chairs a CSaP project, with POLIS, Land Economy and the Constitution Society, to set up a Masters in Public Policy (MPP) at the University of Cambridge.
Distinguished Lecture
We are delighted to announce that Professor Christopher Bishop , a Distinguished Scientist at Microsoft Research Cambridge, where he leads the Machine Learning and Perception group, will give our fifth Distinguished Lecture. Professor Bishop will speak about Microsoft's approach to basic research and innovation, using the example of Kinect – the fasted selling consumer product ever.
Darwin Lectures
As well as supporting the lecture by Andrew Miller MP, which took place on 3 March, CSaP is also supporting two upcoming 'Connections' lectures, organised by Darwin College's student association:
Professor Jeremy Watson, Chief Scientific Adviser at CLG, on 'Technology & Innovation' (17 March)
Professor Chris Whitty, Chief Scientific Adviser at DfID, on International Development (27 May)
A debt of gratitude
CSaP would like to thank the David Harding Foundation and the Isaac Newton Trust for their donations which made the Centre's creation possible.