Newsletter - January/February 2012
Message from the Executive Director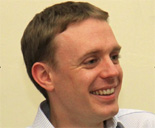 Our third Annual Report provides a snapshot of the many and varied interactions that have taken place through the Centre for Science and Policy over the past year – interactions between researchers and policy makers that would otherwise not have taken place.
In 2011, 25 senior policy makers from Whitehall, the European Commission and industry began their Policy Fellowships, meeting 280 leading researchers in 631 one-to-one meetings. We held 9 Policy Workshops, with 473 participants from 14 government departments and 17 research institutions. 77 early career researchers benefited from the Professional Development Programme, more than 20 of whom have gone on to experience direct engagement with policy makers. And we organised or supported 11 lectures, with audiences averaging well in excess of 100.
Behind the scenes, we continued our support for the development of Cambridge Public Policy and the Master's in Public Policy. We also took our first steps towards establishing a research programme on the relationship between science and policy.
The last of these is worthy of special mention. In April 2011 we ran a workshop – attended by 52 representatives from government, non-governmental organisations, academia and industry – to identify important unanswered questions on the relationship between science and policy. In February, PLoS ONE will publish the resulting paper, authored by Professor William Sutherland and the other workshop participants, listing the 40 questions agreed at that workshop.
In 2012, we will be taking these forward as the basis for a programme of research on science and policy, led by our Head of Research, Dr Rob Doubleday. We look forward to keeping you informed of the progress of this work over the coming year.
In this issue:
Policy impact in practice
Lord Rees on the future of science and policy
Forthcoming events
News in brief
Chris
Dr Chris Tyler
Executive Director
Centre for Science and Policy
University of Cambridge
Policy impact in practice

One of the key contributions which CSaP can make to improving the interactions between research and policy making is by sharing an understanding of how the policy process works in practice. This was the focus of a high-level seminar on 25 January, at which a group of senior researchers and civil servants discussed the practical realities of influencing policy through evidence and advice. Discussions were led by Rohan Silva, Senior Policy Adviser in Number 10 and CSaP Policy Fellow, covering issues such as timeliness, serendipity, the presentation of uncertainty, and the role of commentators and the opposition. More...
Lord Rees on the future of science and policy

The world is facing unprecedented challenges and science has a critical role to play, said Lord Rees of Ludlow, Astronomer Royal, Master of Trinity College and a member of CSaP's Executive Committee, in our last Distinguished Lecture of 2011. Lord Rees argued that while the UK's interface between science and policy is relatively good, there is room for improvement. Using examples from a diverse range of issues – such as natural hazards and population pressure – he put forward a compelling case for a new model of scientific advice in the UK. More...
Forthcoming Events
Risk and Uncertainty conference

On 8 March 2012, we are hosting a conference on Risk and Uncertainty, exploring the issues of resilience and the precautionary principle. Sir John Beddington, the Government Chief Scientific Adviser, will present findings from recent work on low probability, high impact events. The event will take place at the Senate House, University of London. To find out more and book your place, please visit our website.
Cambridge Public Policy Seminars
The new season of Cambridge Public Policy Seminars is already underway. On 27 January, Jenny Dibden, CSaP Policy Fellow and Joint Head of the Government Social Research Services, presented her reflections on the role of external challenge. The next speakers are:
3 Feb - Dr Clive Oppenheimer on Monitoring volcanic gas emissions: from innovation to operational application
10 Feb - Julia Fan Li on Innovation management by global health entrepreneurs
17 Feb - Professor Felicia Huppert on Does well-being have a role to play in public policy?
24 Feb - Tom Steinberg on Baking bread without flour: Why government computing is so broken and how universities can help fix it
3 March - Dr Beatrix Schlarb-Ridley on Algae for energy and industrial biotechnology
CONNECTIONS Lecture Series
17 Feb - The next lecture in this series entitled The challenges of regulating the internet will be delivered by Simon Hampton, Director of European Public Policy at Google. This lecture is organised by the Darwin College Students Association. To register for this event, please click here.
News in Brief
Policy Fellowships
The Policy Fellowships Programme continues to move ahead, with around ten new Fellows coming to Cambridge each term. Newly announced Fellows will cover a range of themes in innovation, risk and resilience, and emerging technologies, with a particular focus around energy and aerospace policy. They include Gordon McGregor (Energy & Environment Director for Scottish Power), Ross Gribbin (from DECC's Strategy Directorate) and Chris Floyd (Business Development Director for Rolls-Royce plc), all of whom will begin their fellowships before the end of term, together with our first Junior Policy Fellow, fast-stream policy adviser Mitchell Harris. They will be followed in the Easter Term by Fellows from the UK Department for Communities and Local Government and the EC Directorate for Research and Innovation, and aviation policy specialists from the Department for Transport and British Airways.
Early-career engineers introduced to policy
In December, CSaP and the Engineering Department at the University of Cambridge co-hosted a Professional Development Policy Seminar for early-career engineers, introducing them to the opportunities and the realities of engaging with policy. Co-sponsored by the IET, 32 researchers from 7 universities – including Cambridge, Leeds, Birmingham, Imperial, UCL, Swansea and Nottingham – heard from engineering experts Ann Dowling, Robert Mair, Rob Phaal (from the University of Cambridge) and Ian Poll (from Cranfield University and Chairman of the Defence Scientific Advisory Council), and from policy professionals Brian Collins (former Chief Scientific Adviser for BIS and DfT), Jeremy Watson (Chief Scientific Adviser at CLG), Tony Whitehead (Director of Governance and Policy at the IET) and Chris McFee (Head of Civil Contingencies Team in the Government Office for Science).
You can read a write up from the Engineering Department's website here.
Post-UN Summit Conference on Noncommunicable Diseases and Mental Health
On 20 January, CSaP supported a Humanitarian Centre event, in partnership with Cambridge Institute of Public Health, on noncommunicable diseases and mental health. The conference followed a 2011 UN Summit on Noncommunicable Diseases (NCD), which brought attention to the burden of death and disease caused by NCDs. It considered agendas for further research in the UK, as well as policies and actions to alleviate disease and promote mental heath in the developing world. Speakers included Mike Davies (Head of Programme Development, CBM-UK), Dr Ann Keeling (Chair of the NCD Alliance and CEO of the International Diabetes Federation) and Professor Nick Wareham (Director of the MRC Epidemiology Unit and co-Director of the Institute of Metabolic Science).
The Intelligence Stairway – or why the future might not need us
This was the title of the lecture received by a packed lecture theatre on 1 February. In his lecture, Jaan Tallinn, the co-founder of Skype, proposed that technological progress, and the trend for ever-increasing intelligence in computers and robots, may eventually produce computers smarter than their creators. The development of Artificial General Intelligence ­ AGI – could result in the end of human-driven technological progress and even an ecological catastrophe marking the end of humans themselves. Jaan proposed that regulation of AI development is vital to prevent such an outcome. Such policies are currently lacking. This was followed by a lively Q&A session.
A longer summary of this lecture is soon to be found on the CSaP website.
New faces
In January, we were joined by three new team members.
Dr Rob Doubleday, who started as CSaP's Head of Research at the end of 2011, joined the team full time in January courtesy of funding from the Isaac Newton Trust.
Dr Tristram Riley-Smith has joined the Centre for a year to run a project on how to improve links between the security services and academia.
Sian Loveless, a PhD student from UEA, has joined the Centre for three months as a NERC-funded Policy Placement.
New Year Honours 2012
The Centre would like to offer wholehearted congratulations to our community members who received an award in the 2012 New Year Honours: Professor Sir Patrick Sissons, Professor Sir Robert Watson, Professor Trevor Robbins CBE, Professor Judith Petts CBE and Matthew Moss MVO.
A debt of gratitude
CSaP would like to thank the David Harding Foundation and the Isaac Newton Trust for their donations which made the Centre's creation and continued work possible.