Newsletter – March/April 2012
Message from the Founding Director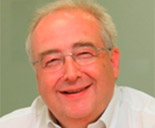 It's unusual for me to pipe up in the CSaP Newsletter, but I wanted to be the first to congratulate Chris Tyler on his appointment as Head of the Parliamentary Office of Science and Technology (POST). In his two years as Executive Director of CSaP he has kept up an extraordinary pace of growth and development, and his legacy when he leaves at the end of May will be a robust organisation with an established position in the world of science and policy.
Chris has made his mark on all aspects of the Centre, not only our knowledge exchange and relationship-building between researchers and policy makers, but also our professional development programme and (most recently) our initial steps towards developing research into the relationship between science and policy. We look forward to continuing to work closely with him as he takes on new challenges in POST, and to using our close working relationship as the basis for bringing the networks ever closer together.
The search starts here for Chris's successor, who will have to share Chris's deep understanding of the nature and importance of networking, his demonstrated record and recognised profile in both the science and policy worlds, and his ability to "speak both languages". We hope to have someone in post by the beginning of October.
Dr David Cleevely
Founding Director
Centre for Science and Policy
University of Cambridge
Message from the Executive Director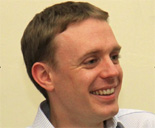 It is with a combination of pride, sadness and gratitude that I'm leaving CSaP in May. I am proud of the way that the Centre has developed: its transformation from an idea to reality, and the evolution and impact of the Policy Fellowships and Professional Development programmes. I am sad to be leaving just as the research programme is getting off the ground and our plans for fundraising are taking shape. And I am grateful to have worked with David Cleevely and the rest of the CSaP team, our Executive Committee, Associate Fellows and the network as a whole; it has been a privilege to have worked with so many erudite and inspiring people.
In June, I will be joining the team at the Parliamentary Office of Science and Technology, which provides scientific and technological analysis and guidance to both Houses of Parliament. Needless to say, the connections between research and public policy will remain at the forefront of my mind, and I look forward to working with CSaP in my new position and wish the team and my successor every success for the future.
Dr Chris Tyler
Executive Director
Centre for Science and Policy
University of Cambridge
In this issue:
Science and policy research questions
Risk and uncertainty
Forthcoming events
News in brief
Science and policy research questions
Back in early 2011, when we asked researchers and policy makers "what don't we know about the relationship between science and policy?", we scarcely imagined the impact that this question would have.
Following a major workshop, a research paper was published on 9 March, authored by Professor William Sutherland and the other workshop contributors. The paper presents 40 important questions on the connections between science and policy that would benefit from research scrutiny. Published in PLoS ONE, it has been well received by expert commentators (see, e.g., the report in Nature here), and even after only a few days has been extremely well read. (For the über-geeks: the paper has been viewed almost 10,000 times already, taking it into the "long tail" of the most-viewed papers in PLoS after three months – see here.)
Risk and uncertainty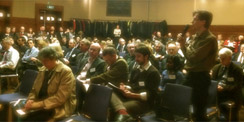 On the very day when the BBC was declaring that solar storms threatened to "wreak havoc with satellites or power grids", leading risk experts were attending a CSaP conference on Risk and Uncertainty, one of our key themes.
The event – sponsored by the Willis Research Network, IET and Lloyd's – brought together academics, policy makers and business representatives to discuss issues such as the precautionary principle and resilience, using examples from finance, public health, agriculture and responses to natural hazards. Sir John Beddington, the Government Chief Scientific Adviser, delivered a fascinating keynote talk on high impact low probability risks – the topic of the latest Blackett Review. Fittingly, at the end of his speech, Sir John was whisked away to reassure the nation about a pending solar storm. You can read more about the conference here.
Forthcoming events
Mobilising the Geeks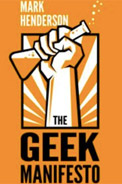 "Whether we want to improve education or cut crime, to enhance public health or to generate clean energy, science is critical. Yet politics and public life too often occupy a science-free zone." On 17 May, Mark Henderson, author of "The Geek Manifesto" and former Science Editor of The Times, will give a CSaP Distinguished Lecture on "Mobilising the Geeks: Bringing science back to the centre of policy". In his lecture, Mark will argue that science should be central to government and the wider national conversation, but that this will only happen when people who care about science get politically active. Find out more and register here.
Introducing early career health researchers to policy
The next of our popular Professional Development Policy Seminars – which introduce early career researchers to the world of policy making – will be aimed at health researchers, and will be held on 3 May. The event will be run in conjunction with Cambridge Institute of Public Health and the Centre for Diet and Activity Research (CEDAR); speakers will include representatives from the Department of Health, the World Health Organisation, the Department for International Development, GO-Science and four leading research institutions. See more here.
Cambridge Public Policy Seminars Easter Term programme
The Easter Term series of CPP Seminars will be held on Friday lunchtimes from 1 to 2 pm in the Department of Engineering. The seminars are free and open to all. For more information and to sign up, please follow the links below:
4 May: Sara Silvestri, Associated Teaching Staff, Department of Politics and International Studies, University of Cambridge – From Irish to Muslim threats: evaluating the impact of counter-terrorism in multi-ethnic Britain
11 May: Susan Phillips, Director, School of Public Policy and Administration, Carleton University, Canada – You take the high road, and we'll take the high road: the new terrain of co-regulating good governance
18 May: Seppe Cassettari, CEO GeoInformation Group – Geographic data in support of public policy: The example of a housing age and type survey for planning
25 May: Ben Plowden, Director of Integrated Programme Delivery, Transport for London – title tbc
News in Brief
New starter
We are delighted to announce that the CSaP team will shortly be joined by a new member, Linden Smith. Linden will be joining us in mid April as Head of Development, tasked with establishing a sustainable base for the Centre's fundraising and development work.
Policy Fellowships
Our first group of Policy Fellows for the Easter Term 2012 includes the Head of UK Aviation Policy Development at the Department for Transport, the Head of Economic Regulation at British Airways, the chief of staff for the European Commission's new Chief Scientific Adviser, an Economic Adviser from the Commission's Directorate-General for Research & Innovation, and other Fellows from BIS, CLG and the Environment Agency. The complete list and the dates of their initial visits to Cambridge can be found here.
CPP Seminars
The Friday lunchtime CPP Seminars always provoke interesting discussion. On 3 February, Dr Clive Oppenheimer put the Icelandic eruptions which played havoc with European air traffic into context by discussing the monitoring of volcanic emissions and the operational application of his research. Read more here. And on 10 February, we heard from Julia Fan Li, a Doctoral Researcher and Gates scholar from the Centre for Technology Management, who spoke about tuberculosis and innovation management by global health entrepreneurs. Read more here.
Guardian Science Weekly Podcast
In February, in anticipation of publication of the science and policy research questions paper, CSaP Executive Director, Chris Tyler, and Head of Research, Rob Doubleday, appeared in a special edition of the Guardian Science Weekly podcast, which also featured Mark Henderson (forthcoming CSaP Distinguished Lecturer), on the topic of the role that science plays in policy. You can listen to the podcast on iTunes or here.
A debt of gratitude
CSaP would like to thank the David Harding Foundation and the Isaac Newton Trust for their donations which made the Centre's creation and continued work possible.