Newsletter - May 2011
Message from the Executive Director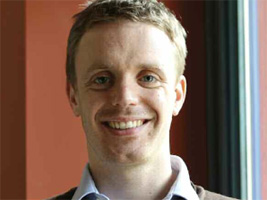 May has been an extremely busy month for the Centre. Seven events and the arrival of four new Policy Fellows resulted in many fruitful interactions between researchers and policy professionals. These interactions offer each side the opportunity to learn from the other – about the implications of research for policy, and about the nature of the policy process and its needs for evidence. But most importantly, the connections made increase the chances of apparently serendipitous collisions of expertise and public policy decisions.
An excellent example of the pathways by which this approach works was the visit - as part of the Policy Fellowships Programme - by Graham Pendlebury, Director of Greener Transport & International at the Department for Transport (DfT). Graham spent four days with us in May, meeting 30 researchers and attending two CSaP events. He summed up his visit in these terms: "The range of expertise deployed for my benefit was first class - these were some of the most eminent academics in their field. But I'm sure the academics learned something too, about the way policy is developed in government and how academia can tailor its research and expertise to make a real impact on policy."
Moreover, within three days of returning to Whitehall Graham had already arranged multiple follow-ups:
three researchers visited DfT on 24 May to speak about vehicle technology
one researcher is to speak to policy makers on biofuels
key DfT economists are to visit Judge Business School
further engagement is planned about how to use prizes as an inexpensive way of getting new transport technology development underway.
As Graham commented: "This is just for starters. I haven't had time to do much more follow up yet." The Centre looks forward to many further lively encounters over the two years of his Fellowship.
In this issue:
Professor Chris Bishop's Distinguished Lecture
Public Policy comes to Cambridge
Update on the Policy Fellowships Programme
News in brief: "Science on the Inside" and DfID's Chief Scientific Adviser on "Science in the service of the developing world"
Upcoming: Professional Development Policy Seminar for engineers and other Cambridge events.
Chris
Dr Chris Tyler
Executive Director
Centre for Science and Policy
The value of basic research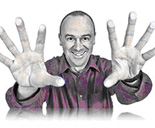 On 12 May, Professor Christopher Bishop, Distinguished Scientist at Microsoft Research Cambridge and recent winner of the Royal Academy of Engineering's Rooke Medal for public engagement, used our fifth Distinguished Lecture to describe a compelling case study exemplifying the value of blue-skies research. His lecture, entitled "An Innovation Odyssey - from Basic Research to the World's Fastest-selling Consumer Electronics Product", explored the development of a controller-free gaming experience for the Xbox 360 via a full-body motion tracking device called Kinect.
He explained how Microsoft's approach to research recognises that "if you tell researchers what to do you get incremental change"; whereas Microsoft wants innovation that "leap-frogs the competition". For that to happen, basic research is necessary and his team's work on machine learning and perception enabled that leap in the case of Kinect. A write up can be found here.
Public Policy comes to Cambridge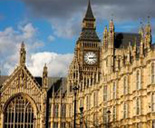 The Cambridge Public Policy Seminar series has got off to a flying start. The first four talks, kindly hosted by the Engineering Department, have been given by a wide ranging group of fascinating speakers.
Charles Clarke, the former MP and now Visiting Professor at UEA, spoke on "Dealing with Change", and put forward a strong case for more ambition and responsibilty from academia, the media and politicians. You can find a write up here.
Dr Miles Elsden, Head of Defence and Security at the Government Office for Science and CSaP Policy Fellow, spoke about "Science in Emergencies", and in particular the role that science advisers play in helping the government to prepare for national emergencies such as pandemics, terrorism and other natural and human disasters. A write up can be found here.
Professor Theresa Marteau, Director of the Behaviour and Health Research Unit at the University of Cambridge, gave a rapid tour of the topical issue of policies that alter patterns of decision making in the population, entitled "Judging Nudging: can nudging improve population health?" A write up of the talk will appear on our website shortly. In the meantime, here is the paper on which it was based.
The final talk of the first series was given by Judith Plummer, a Senior Financial Analyst at the World Bank and PhD student in Cambridge's Department of Engineering, on "Where did we lose focus on economics?". A write up will appear shortly.
The organisers are keen to receive suggestions for future speakers in the series, including graduate students, post docs, faculty and visitors. Please send recommendations to Miranda Gomperts.
Update on the Policy Fellowships Programme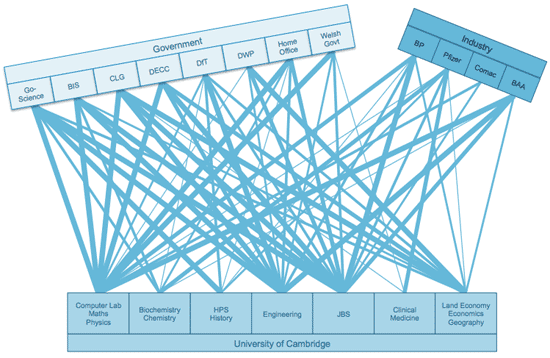 Our thanks go to all the members of the network who welcomed our Policy Fellows to Cambridge in May. Over one hundred one-to-one meetings, conducted for our four visitors during the month, delivered real insight into the policy implications of a vast range of research, from biofuels to behaviour.
As well as Graham Pendlebury, whose visit is described above, the Centre welcomed three other new Fellows:
Alan Pratt (Director, Science, Engineering and Technology, Home Office), whose interests centre on developments in science and technology that may have significant impact on crime, policing, security or civil liberties; the nature of innovation in complex devolved organisations; and risk, resilience and the precautionary principle.
Miles Elsden (Head, Defence and Security, GO-Science), who came to Cambridge to develop his department's network in a range of cutting-edge disciplines including security and cyber science, health technologies and high performance computing, and who presented in the inaugural series of Cambridge Public Policy Seminars.
Jenny Dibden (Joint Head of the Government Social Research Service), whose focus is on exploring how radical challenge (from researchers and other advisers) can improve the advice provided by government analysts.
In the next couple of months we look forward to the arrival of Philip Langsdale (CIO of the British Airports Authority) and Serge Plattard (Science and Technology Counsellor at the French Embassy in London). During the autumn we will also welcome our first Policy Fellows from the European Commission, and bring in further Industrial Policy Fellows, following in the footsteps of Bob Sorrell from BP and Adam Heathfield from Pfizer.
News in Brief
Science on the Inside
On 28 April, CSaP and the Government Office for Science co-delivered a seminar in London featuring speakers from BIS, DfT and DCMS and chaired by Lord Willis of Knaresborough. Two of the speakers were scientists who had moved into policy, and two were non-scientists who were working on science-related policy briefs. The discussion focussed on the differing perspectives of both groups and how science was used inside government. More....
Chris Whitty's Connections Lecture
Few of the problems of the developing world have been solved or could be solved without the use of science from multiple disciplines, often in ways that are not recognised. So began the lecture delivered by Professor Chris Whitty, Chief Scientific Adviser at DfID, on 27 May - the last in this current series of Connections Lectures. A full write up of the lecture will appear on our website soon.
Professional Development Policy Seminar for Engineers
On 23 June we are running a seminar for early career engineering researchers on the opportunities for and realities of engaging with policy. Confirmed speakers include Sir Mike Gregory (Head of the IfM), Professor Jeremy Watson (Chief Scientific Adviser at the Department for Communities and Local Government and Global Research Director at Arup) and Steve Gooding (Director General, Domestic, Department for Transport). Details of the event and how to apply to attend can be found here.
Other events in Cambridge
2 June, a Well-being Institute seminar on "Well-being Reconsidered: Free Traits, Personal Projects and the Happiness of Pursuit", with Brian Little, Distinguished Scholar in the Department of Social and Developmental Psychology, Cambridge University.
2 June, a Faculty of Politics, Psychology, Sociology and International Studies seminar on "From PPSIS to The House of Commons: Social Science, Evidence and Policy", with Stella Creasy, MP for Walthamstow.
9 June, the Cambridge University Technology & Enterprise Club (CUTEC) is holding its Annual Technology Ventures Conference on the importance of the "Ideas Economy" and its impact on high-tech clusters.
A debt of gratitude
CSaP would like to thank the David Harding Foundation and the Isaac Newton Trust for their donations which made the Centre's creation possible.