Areas of Support
---
The Centre for Science and Policy connects researchers in the sciences and engineering with policy makers in government and industry in order to build mutual trust and lasting relationships to support the policy making process.
CSaP's activities encompass Knowledge Exchange, Professional Development and Research, all with the common goal of making lasting connections and creating relationships based on mutual trust, respect and understanding. Our areas for support and associated partnership opportunities are outlined below.
Knowledge Exchange

The exchange of knowledge that underpins all CSaP activities is best highlighted through its flagship product – the Policy Fellowships Programme. Policy makers undertake a two-year programme that includes a residential week, one-to-one meetings with over 30 academics to address specific policy questions and opportunities to participate in Policy Workshops and Distinguished Lectures.
Professional Development

Our Professional Development Seminars brings policy makers and early-career researchers together to highlight different career paths and ways in which research and policy can influence one another. Topics cover core themes from health and well being to risk and resilience. The series is complemented by the organisation or Policy Placements for students wishing to pursue a career in policy.
Research into Science and Policy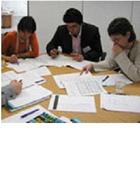 Combining a Research Programme with practical knowledge exchange, CSaP offers unique opportunities for examining the relationship between science and policy. Taking the lead in investigating the routes for science into policy, CSaP carries out comparative research on scientific advice such as the current study of the changing role of Chief Scientific Advisers, and collaborative projects involving academics and policy makers on topics ranging from national security to biodiversity conservation.
For details of the various levels of involvement, benefits and marketing opportunities, please speak to CSaP's Head of Development Linden Smith or email development@csap.cam.ac.uk.