Share
Integrating scientific research into government: Grey Parrot Model
Guest post by Dzhordzhio Naldzhiev, Head of Science Strategy, Office for Product Safety & Standards at the Department for Business, Energy & Industrial Strategy (BEIS)
A recent study showed how African grey parrots show a remarkable willingness to help their peers achieve their goals by lending a wing, so to speak. Inspired by this example, a model was created in honour of the remarkably intelligent and helpful grey parrot. In this blog I set out the motivation behind setting up the model, outline how it operates, and invite you to take part in developing it further.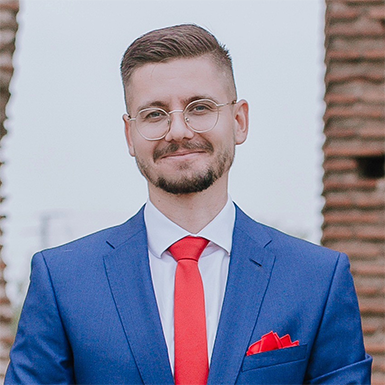 Background
The Government Science Capability Review made the case for innovation, and outlined why it is important to develop effective models for integrating scientific expertise and embed it into policymaking. From a civil service perspective, the ambition is to find creative ways to provide early career researchers with the opportunity to address live and complex evidence gaps, whilst also streamlining bureaucracy in commissioning research.
A consistent need for an academic is to generate research that can feasibly contribute to society in impactful ways. This often requires having access to real-world issues that the civil service confronts. Often the expertise and knowledge are there, but they are directed towards a basic science question that is difficult to translate into practice.
So, how can we free two birds with one key? By finding a way to generate relatively low-cost, high-risk, and high-reward research that benefits the civil service, while offering early career researchers the experience in working with policy professionals and regulators. Welcome to the Grey Parrot Model.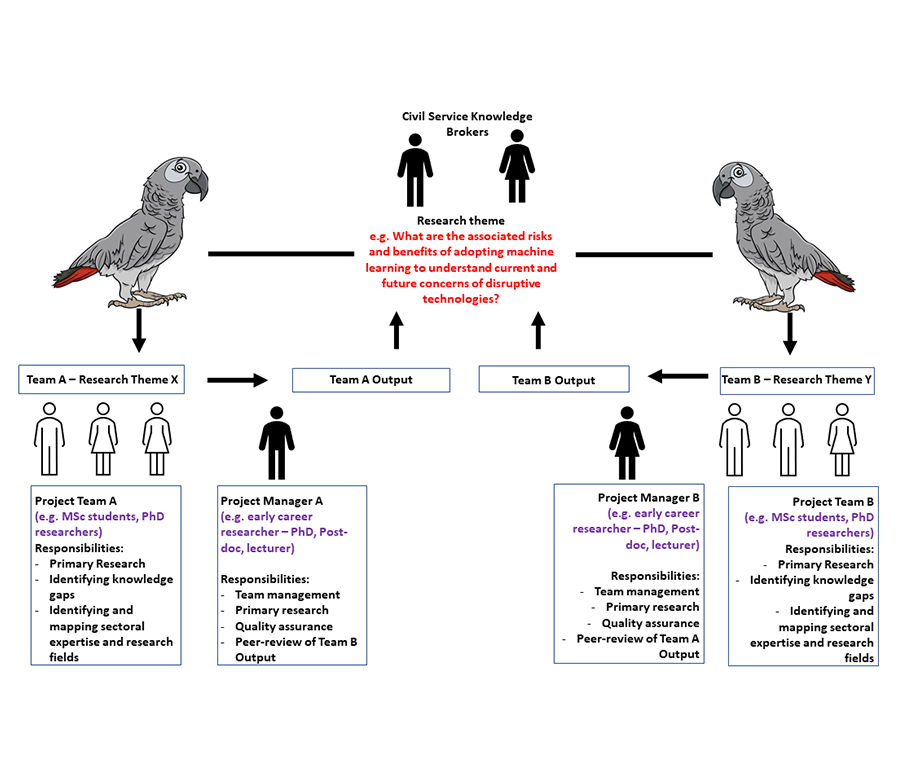 The 'high-risk' component of the model refers to the ability of the project to meet an ambitious goal in providing research that has demonstrable impact, but as with any scientific endeavour there is a risk of non-delivery, or the project failing to meet its intended outcomes. As counterintuitive as it might seem, failure of a single experiment (or a single project) to achieve its intended impact could even be considered a positive result when compared to unverified, vague, or unknown outcomes. 'Failed' projects will lead to follow-up projects and over time the applied research will take into account the newly acquired information, follow different routes to impact, and thus have a higher chance of succeeding. In this failure is a route to future successes, because without it we cannot learn.
To trial the model, a director of an MSc programme was approached to setup a pilot. There were two projects, each having several research questions that, overall contributed to the same topic area that addressed an evidence gap. A dedicated pot of funding was allocated so that the project teams were remunerated for their work. A university opened an internal call and selected early career researchers to fill the project manager (PM) and researcher roles. The PMs took ownership for ensuring the work is of publishable quality, whilst also peer-reviewing the other project or finding suitable external peer-reviewers, depending on the required expertise. While each team had a specific brief along with a specific deliverable, the two teams were encouraged to work together and learn from their respective expertise in an effort to build in interdisciplinarity into the model.
Motivation and further development
This model adopts the UK Innovation strategy in framing the UK as a "hub for innovation", by creating an ecosystem of knowledge and realising the potential of scientific expertise. My role in setting up the model is to act as a 'knowledge broker', translating knowledge from academia to the civil service and vice versa. Recent events (COVID-19 pandemic affecting hardest hit communities) have once again highlighted global and national structural and societal inequalities. Institutions across the world are now developing diversity and inclusion action plans, promoting scholarships from under-represented communities and leading the effort in promoting a more equal society.
I reviewed evidence on historic working practices across the Civil Service and one of the main motivations of setting up this model was to promote equality of opportunity for early career researchers, and championing diversity of expertise to reach policy makers. For this reason, it doesn't matter which institution grey parrots call their academic home, which branch on the university global-ranking tree they are nesting on, or how well known they are within the wider animal kingdom. What matters is that they have the expertise, ambition, and dedication to drive forward high-quality innovative research. Even more so, as the model is applied across multiple projects, it will actively seek to implement a diverse range of expertise with potential for bringing together multiple institutions and forming interdisciplinary teams.
The model is a work in progress, so I'd welcome other ideas for models of this type and invite experts to explore collaborations and opportunities in developing it further.
I am currently leading research projects in the domain of construction products and consumer products within OPSS. My academic research interests are focused on the interrelationship between people, energy, indoor air, environmental quality, products, performance, and the built environment.
If you would like to know more about the Grey Parrot Model, and how to contribute, or implement a similar model, then please contact me: dzhordzhio.naldzhiev@beis.gov.uk or dzhordzhio.naldzhiev.16@ucl.ac.uk.