Jackie Ouchikh
---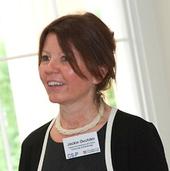 Head of Programmes, Centre for Science and Policy, University of Cambridge.
Jackie has been working at the Centre for Science and Policy since its inception in 2009. She manages the Professional Development and Events Programmes and is responsible for the delivery of the Centre's engagement mission through the marketing and execution of its events: Policy Workshops, Distinguished Lectures, Professional Development Policy Seminars and Annual Conferences, as well as other network-building activities.
Before joining the Centre for Science and Policy, Jackie worked as the External Relations Manager at the Cambridge-MIT Insitute (2004 - 2009) and as the Events Manager in the Institute for Manufacturing in the University of Cambridge (1998 - 2001).
---
Email