Sir John Beddington
---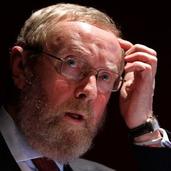 Government Chief Scientific Adviser, UK Government
Sir John Beddington was appointed as Government Chief Scientific Adviser (GCSA) on 1 January 2008. Since being in post, the GCSA has led on providing scientific advice to Government during the 2009 swine flu outbreak and the 2010 volcanic ash incident. The GCSA has also been responsible for increasing the scientific capacity across Whitehall by encouraging all major departments of state to recruit a Chief Scientific Adviser.
Throughout 2008 and 2009 Sir John raised the concept of the "Perfect Storm" of food, energy and water security in the context of climate change, gaining considerable media attention and raising this as a priority in the UK and internationally.
Prior to his appointment as GCSA, he was Professor of Applied Population Biology and headed the main departments of environmental science and technology at Imperial College. His main research interests are the application of biological and economic analysis to problems of Natural Resource Management.
Sir John has previously been advisor to a number of UK Government departments including the Foreign and Commonwealth Office, the Department for Environment, Food and Rural Affairs, the Ministry of Defence and the Cabinet Office. He has also advised several Governments and international bodies including the Australian, New Zealand and US Governments, the European Commission, the United Nations Environment Programme and Food and Agriculture Organisation.
He was, for six years, a member of the Natural Environment Research Council. In June 1997 he was awarded the Heidelberg Award for Environmental Excellence, in 2001 he became a Fellow of the Royal Society. In 2004 he was awarded the Companion of the Order of St Michael and St George by Her Majesty the Queen and in June 2010 was awarded a knighthood in the Queen's Birthday Honours.