James Jackson - Living with earthquakes in the developing world
---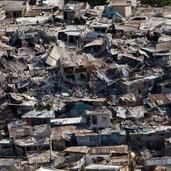 Speaker: Professor James Jackson, Head of the Department of Earth Sciences, University of Cambridge
October 16, 1pm. Latima Room, Clare College Cambridge, Trinity Lane (map)
Many more people die in moderate-sized earthquakes in continental interiors than in massive earthquakes on the ocean margins, such as in Japan and Chile in recent years. This is partly because geological circumstances within the continents are different, and more challenging, than those on oceanic plate boundaries.
But it is also because the link between the appropriate geological knowledge and those who need to take account of it, such as planners, architects and politicians, is much more robust in developed than non-developed countries. Corruption and wealth also play a big role in resilience to earthquakes. A particularly significant factor is that the geological circumstances on continents concentrate populations into megacities in hazardous locations, making them especially vulnerable.
This seminar will illustrate how these processes have led to contrasting experiences in the modern world, in which earthquakes in rich developed countries are (relatively) stories about money, whereas in poor undeveloped or corrupt countries they involve (again relatively) a massive loss of life.
--------------------------------------
These seminars bring together a diverse range of individuals from the humanities as well as social and natural sciences to discuss the public policy implications of their work and research.
They will take place on Tuesdays between 1-2pm, throughout the year in the Latima Room, Clare College Cambridge, Trinity Lane (map). Please follow Cambridge Public Policy signs from the Porters Lodge.
Each talk will last 25-30 minutes and will be followed by open discussion.
Please click here to see the full programme of CPP Seminars in 2012.
---
Speakers
---
Organisers
---
Website