Mr Graham Pendlebury
---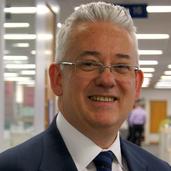 Director of Local Transport, Department for Transport
Policy Fellow of the Centre for Science and Policy
"The arrangements for the visit were excellent, and the range of expertise deployed for my benefit was first class. These were some of the most eminent academics in their field. Overall my time in Cambridge was stimulating, challenging and thought-provoking. But I'm sure the academics learned something too, about the way policy is developed in government and how academia can tailor its research and expertise to make a real impact on policy." (May 2011)
In 2013, Graham became Director of Local Transport at the Department of Transport. Previously, he was Director of Environment & International (now renamed and restructured as Greener Transport & International). This is a multi-disciplinary unit comprising policy staff, economists, research managers and engineers, with responsibility for improving the environmental performance of the transport sector, particularly from road vehicles; setting & negotiating technical standards (environmental and safety) for all road vehicles; and promoting DfT's interests overseas.
Graham is a member of DfT's central Strategy Committee, and chairs several programme boards and inter-departmental committees on behalf of other government departments. He is also a member of the Audit & Risk Committees of the Government Car and Despatch Agency and the Driving Standards Agency.
Graham was Director of Road and Vehicle Safety & Standards from 2004 to 2007, with responsibility for road casualty reduction, traffic management policy and certain transport technology issues.
Previous posts in the DfT and its predecessors at senior civil service level involved responsibility for tackling the environmental impacts of air transport (2001-2004) and management of long term strategic thinking and cross-cutting work (1999-2001). Graham has also held posts in the international aviation and rail sections of the Department, and was Principal Private Secretary to the Minister for Roads and Traffic in 1989-91.
Graham has a Masters degree in History.
To read about Graham's experience as a Policy Fellow see here.