Dr Luca Martinelli
---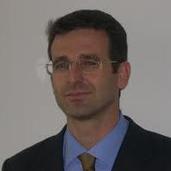 Assistant to the Director General of the Publications Office of the European Union
Policy Fellow of the Centre for Science and Policy
After completing his PhD in Political Science in the University of Florence in 1995, Dr Martinelli undertook research at the University of Bologna (Centre for Public Policy Analysis in the Department of Organization and Political System), on projects related to public administration and public policy analysis. In 1997 he joined the European Commission, working first in Public Health Policy and then (since 2001) in Information Society and Media. He then worked as Policy Officer for Digital Libraries, Open Data, and Public Sector Information within the Information Society and Media Directorate General, before taking up his current role as the Assitant to the Director General of the Publications Office of the European Union in late 2012.
His experience as researcher and policy practitioner ranges across issues as diverse as environment, transport, public health, broadcasting, ICT research and deployment. His current research interests focus on the policies defined by the Digital Agenda for Europe (DAE), the Commission strategy to deliver social and economic benefits through ICT (see http://ec.europa.eu/information_society/digital-agenda/index_en.htm).
In his daily tasks of policy development, implementation and evaluation, Dr Martinelli has made ongoing use of the theory and methodologies of policy studies which he developed as a researcher. As part of his Policy Fellowship he proposes to refresh his theoretical and empirical knowledge and acquire new insights that could have a positive impact on day-to-day activities delivering the DAE. He will cover research questions such as:
What are the latest developments and emerging relationships between policy and research in ICT?
How are the boundaries of ICT policy evolving?
What is the latest thinking on theories of public good and information?
What role do private actors play in ICT policy – e.g. the case of Public-Private Partnerships for Digitization of Cultural Heritage?
What theoretical models can link ICT with economic, social and environmental variables?
Is it possible to measure the integration of ICT policy vis-à-vis other "external" sectoral policies?
How can ICT contribute to the improvement of healthcare, transport, the environment, and the delivery of public services and transparent government?
How can the issues of social inclusion, security and trust be addressed?
What are the pros and cons of "open data"?
How can we maximise access to information while avoiding information overload?
How can or should we balance freedom of information against content control measures?