Professor Susan Owens
---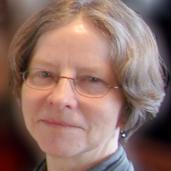 Professor of Environment and Policy, Department of Geography, University of Cambridge
Associate Fellow of the Centre for Science and Policy
"Science and policy interact in complex ways, and a deeper understanding of this relationship is an urgent and non-trivial challenge. The strategic position of the Centre for Science and Policy makes it an excellent place to develop and take forward a programme of research and other activities in this area. In doing so, it will help build connections between cutting edge research and public policy, in both national and international settings."
Professor Susan Owens (OBE, FBA) has researched and published widely in the field of environmental governance. Her current projects are concerned with relations between science and politics, and with the role of argument, evidence, ideas and advice in policy formation and change. She has also worked extensively on interpretations of sustainable development in theory and practice, particularly in the context of land use and environmental planning.
Recently she has been interested in the 'subversive' functions of planning, exploring connections between planning conflicts (especially those concerned with contentious technologies and infrastructures) and developments in wider domains of public policy. She has supervised many PhD students on environmental and science/policy topics. She was appointed an OBE in 1998 and was a recipient of the Royal Geographical Society's 'Back' Award in 2000. She holds an Honorary Professorship at the University of Copenhagen. For the academic year 2008-09 she was the King Carl XVI Gustaf Professor of Environmental Science, hosted by Stockholm University's Resilience Centre and the Royal Institute of Technology, Stockholm. She was elected a Fellow of the British Academy in 2011 and received an Honorary Doctorate from the Royal Institute of Technology (KTH), Stockholm, in 2012.
Susan is a member of the Science Policy Advisory Group of the Royal Society. From 1998 to 2008 she served on the Royal Commission on Environmental Pollution (RCEP), one of the longest-standing environmental advisory bodies in the UK. Reports to which she contributed in this capacity include:
Novel Materials in the Environment: the Case of Nanotechnology (2008)

The Urban Environment (2007)
Turning the Tide: Addressing the Impact of Fisheries on the Marine Environment (2004)
Chemicals in Products: Safeguarding the Environment and Human Health (2002)
The Environmental Effects of Civil Aircraft in Flight (2002)
Environmental Planning (2002)
Energy: The Changing Climate (2000)
She has recently served on ESRC's Research Committee (2007-11) and the Council and Research Committee of the Royal Geographical Society (2009-2012). From 2003-2006, she chaired the Governance Working Group of the European Environmental Advisory Councils (EEAC). Previously, she has been a member of the Steering Group for a review of science in the Department of Environment, Food and Rural Affairs (Defra), the UK Round Table on Sustainable Development and the Countryside Commission. She has advised a number of governmental and non-governmental organisations.
---
Website
Geography Profile: http://www.geog.cam.ac.uk/people/owens/