Share
On 8 November, 58 chemical scientists from 16 academic institutions participated in a Professional Development Policy Workshop to hear from policy professionals and experts on the role of scientific evidence in policy-making.
Hosted and sponsored by the Royal Society of Chemistry, this one-day workshop offered practical advice on how researchers can develop their communication skills and engage with the policy development process.
Dr James Hutchinson, Senior Programme Manager for Life Sciences at the RSC, kick-started the day with some very helpful recommendations for researchers on how to connect with policy makers and influence policy. He was followed by scientific experts – David Taylor (Chairman, wca environment) who has spent the past 40 years advising policy makers; Dr Leila Luheshi (Programme Lead, Science, PHG Foundation) who was, until recently, seconded into the Department for Business, Innovation and Skills; and Selvarani Elahi (Deputy Government Chemist, LGC) who talked about the role she played during the horsemeat scandal.
Working in groups, and assuming the role of 'science advisers', participants were then present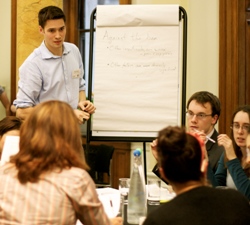 ed with a scenario whereby a minister had phoned late on a Friday afternoon requesting a decision on an issue within 90 minutes.
The 'science advisers' were asked to consider the pros and cons of evoking the precautionary principle, and to consider the potential conflicts between science-based and value-based policy decisions. Their recommendations were then presented back to a panel of policy professionals – Liz Surkovic (Deputy Director, Science in Government, Government Office for Science), Dr Colin Church (Director, Climate, Waste and Atmosphere, Defra), and Duncan Harding (Senior Scientific Officer - Chemistry, Home Office) – who described some of the real problems they are faced with day-to-day and who they talk to for advice, which sometimes can have a huge impact and other times make no difference at all.
Through this process, participants were able to get a feel for the kinds of pressures policy makers are often under to respond to problems at very short notice. This did not seem to deter them, however; on the contrary, there was lots of enthusiasm from attendees to get more involved through internships and secondments in government, with many expressing an interest in taking up a career in policy.
Details of the event can be found here.
(Banner image from ironpoison on Flickr)
8 November 2013, 11am

In partnership with the Royal Society of Chemistry, the Centre for Science and Policy is organising a workshop for early career researchers in the chemical sciences, which will take place at the RSC on 8 November.