CSaP Newsletter
Issue 37
Message from the Executive Director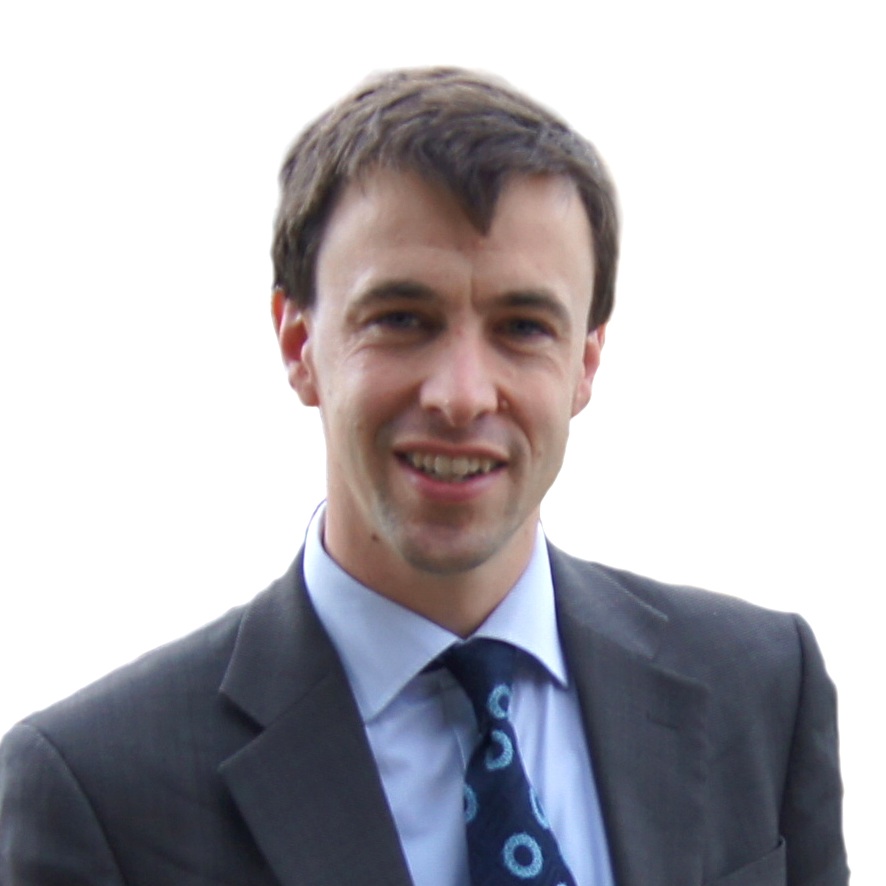 During 2015 CSaP will continue to focus on what we do best – supporting interaction between people working in academia and public policy. CSaP's policy workshops are convening spaces that promote mutual understanding, respect and trust between science and policy. These are the conditions that enable research to make a significant contribution to addressing complex and long-term public policy challenges. CSaP is running several events in January – from a focus on cities and climate change to a discussion of the human brain in the age of information overload. And on 14 April CSaP's annual conference will take place in Cambridge and will focus on how government can make better use of advice and expertise from the humanities. I look forward to seeing many of you at these events as we continue to build the connections and conversations that promote mutual learning between science and policy.
Feature - My first week as a CSaP Policy Fellow
Chris Carr, Deputy Director Manufacturing, Services and Electronics, Department for Business, Innovation and Skills, describes his meetings with researchers in Cambridge during the first week of his Policy Fellowship:
"During my visit to Cambridge, I had thirty meetings with academics and business folks. Most of the topics discussed roamed far wider than my initial questions and many didn't even stay on the issues around science and evidence in policy making but went off in all sorts of interesting directions.
I had several conversations about big companies being unable to cope with paradigm shifts – perhaps the best example being Kodak, who saw digital cameras coming yet still could not adapt in time. Jaideep Prabhu (Cambridge Judge Business School) gave me the insight that this is more difficult for manufacturers precisely because investment in physical assets ties them in to their obsolescent business model.
The single most interesting insight came when I asked Laura James (Cambridge Makespace) about outcome data and case studies. Stewart McTavish (who runs ideaSpace, which is complementary but different) had mentioned how helpful it was that although ideaSpace's funding agreement required them to report outcomes to BIS, the organisation wasn't bound by hard targets. Laura said that the few case studies from Makespace successes had arisen from people proactively seeking her out to tell their story – 'if I had to document systematically all the outcomes, they wouldn't happen'.
The data that I think would help me with policy on manufacturing doesn't seem to exist yet, though I think the combination of passive RFID and GPS is going to give one of my successors an easier time understanding supply chains in a few years. Part of the problem could be that most of the data I want is about company activities, and that is hard to gather systematically. I came home convinced that government should not in most cases be deciding what data it needs to collect from any given project or scheme. We should instead focus on stipulating how, where and when the data should be made available, if necessary providing the platforms and tools to ensure that it remains interoperable and accessible to everybody for as long as necessary – and then let crowdsourcing do most of the work to provide it.
My overriding learning is that while obtaining evidence can be hard, it has nothing on working out what evidence you need in the first place. I realise that I already knew this by another name in policy: it's not the answers that are difficult, it's getting the questions right.
The full version of Chris' blog can be found here.
Top Stories
Centre welcomes new Fellows for Lent term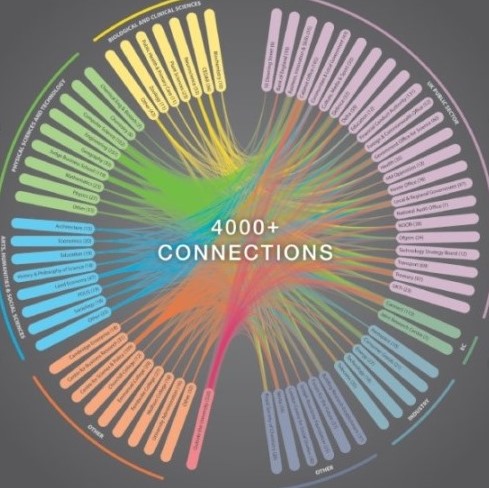 The new Policy Fellows elected for two years from Lent Term cover a diverse range of interests, from migration policy and international law, to arts and libraries. New Fellows include civil servants from HM Treasury, the Ministry of Justice and the Department for Culture, Media and Sport, as well as from the Scottish Parliament and local government; for details see here.
Invitations to meet the Fellows are being issued as usual to members of the network, but if you would like to be included please contact us. For those interested in becoming Fellows in the next round, the deadline for applications is 31 January; for details see here.
Professor Steven Chu delivers lecture on climate change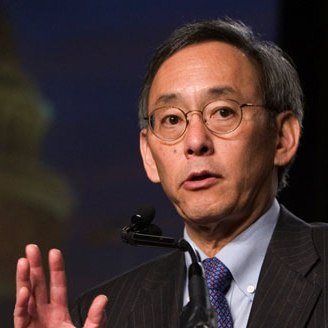 In November, Nobel prize winner Steven Chu delivered the 2014 Dr S T Lee Lecture on "energy, climate change and sustainability: a necessity as the mother of many inventions". Professor Chu discussed an epidemiological approach to assessing the risks of climate change, and provided a perspective on how to mitigate these risks with science, technology and policy. You can listen to his lecture here.
The GCSA turns 50
To mark the fiftieth anniversary of the appointment of the first Government Chief Scientific Adviser, CSaP came together with the Royal Society, GO-Science and SPRU to host a panel discussion on the past, present and future of scientific advice. Panellists included the current and former GCSAs, Sir Mark Walport, Lord May, Sir William Stewart and Sir Robin Nicholson. Read more and listen to the discussion here.
CSaP policy workshops provide forum for debate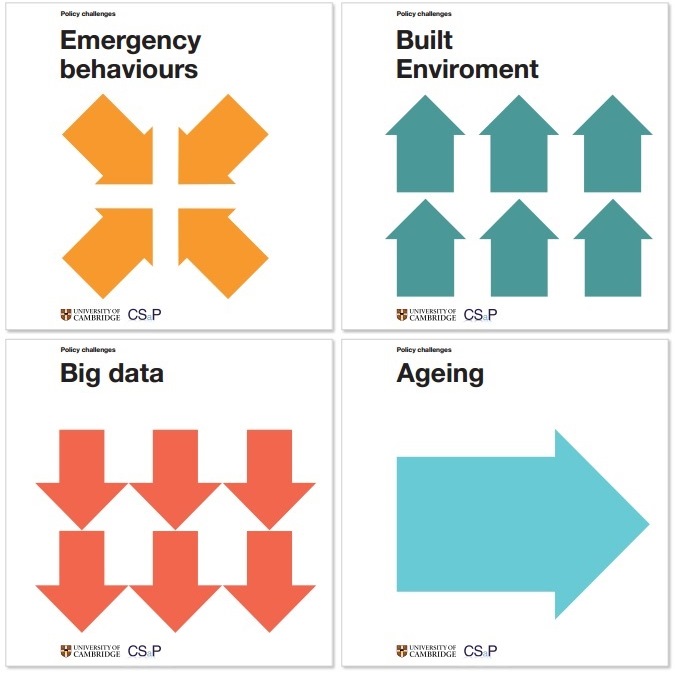 Making systems resilient: CSaP hosted a roundtable discussion with the Cambridge Engineering Design Centre on the strategies used to define and implement resilience in a variety of fields and systems. Sir John O'Reilly (Director General, Knowledge and Innovation, Department for Business, Innovation and Skills) who chaired the discussion said, "Notwithstanding that my role as chair was to ensure discussion flowed freely amongst the participants, I found the format and topic such that I couldn't resist joining in". Read more here.
A vision for the future ageing population: Looking at how new policy might bridge the gap between a 'likely' and an 'ideal' image of an ageing society in the coming decades, this workshop brought together attendees from universities and research groups, charities, and local and national government to discuss ageing from several angles including wellbeing and fulfillment. Read more here.
Improving the supply of affordable housing in the UK: Dame Mavis McDonald chaired a discussion organised in partnership with the Cambridge Centre for Housing Planning Research to discuss policy options for improving the supply of affordable housing in the UK. The workshop invited experts from academia, policy making and industry to discuss the issues surrounding housing and future solutions. Read more here.
Data Science and Policy: A workshop on big Data and policy was organised in partnership with Public Health Genomics and the Cambridge Big Data Strategic Research Initiative. The workshop aimed to identify key opportunities for government to improve the delivery and implementation of public services by using novel tools to link and analyse large datasets. Read more here.
Behavioural scientists discuss policy implications of their research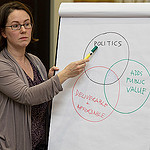 Last month CSaP partnered with Cambridge Neuroscience to organise a professional development workshop for 45 early-career behavioural scientists in Cambridge. The workshop provided attendees with an opportunity to use their knowledge and skills to debate a live policy issue. In their feedback, early-career researchers said they felt enthused and better informed about the ways in which they could engage with policy and apply their expertise for public benefit. Read the full story here.
Upcoming Events
14 January 2015: How will cities adapt to the challenges facing them in the future?
Jointly hosted in Cambridge by CSaP and the Cambridge Forum for Sustainability and the Environment panellists will discuss how cities need to adapt to the challenges facing them in the future, and what we need to do to prepare for these challenges. Read more here.
21 January 2015: Cities and climate change
For the first time in history, more people live in urban areas than in rural. This is of particular concern where current building stock is poorly adapted; pricing of energy and water has incentivised inefficient resource use; and policy levers are difficult to identify and influence. In partnership with the European Development Bank for Reconstruction and Development (EBRD) and the Cambridge Forum for Sustainability and the Environment this event will bring together a panel of distinguished speakers to focus on some of these pressing challenges. Read more here.
22 January 2015: The future of economics and public policy
The Public Policy Strategic Research Initiative (SRI) at Cambridge is holding a lecture and panel discussion on 22 January 2015 on 'The Future of Economics and Public Policy' with Dr Ha-Joon Chang. Please contact the SRI Coordinator Charlotte Sausman for further details and to register. Read more here.
22 January 2015: The future of education - evidence and technology in the classroom
Cambridge University Science and Policy Exchange (CUSPE) is organising an evening event on the future of education, which will be held in Cambridge on 22 January. A growing number of teachers, researchers, and policy makers are arguing for the development of an evidence based education system. How can research techniques, such as randomly controlled trials, and recent advances in technology be harnessed to improve the educational experience? And how can policy facilitate these changes? Read more and register here.
The organised mind: thinking straight in the age of information overload
27 January 2015 (London) organised in partnership with the Government Office for Science
28 January 2015 (Cambridge) organised in partnership with Cambridge Neuroscience
Later this month Daniel Levitin (Laboratory for Music Cognition, Perception and Expertise at McGill University, Montreal) will deliver a talk in both London (Cabinet Office auditorium) and Cambridge (St John's College) on 'the organised mind'. A cognitive neuroscientist specialising in music perception and cognition, he is credited for changing the way that scientists think about auditory memory. In his talk, he will review the cognitive neuroscience of attention and memory, and how recent findings can help all of us to become more productive. Read more and book your place using the links above.
14 April 2015: How can government make better use of advice and expertise from the humanities?
CSaP's 2015 annual conference brings together people from government, academia, business and civil society to debate the role of evidence and expertise in policy making. This year our annual conference will be held on 14 April at Murray Edwards College, Cambridge.
To see the full list of events for this term please follow the link here.
Other Stories
CSaP welcomes new interns to Cambridge
Building on the success of our Professional Development programme, this year CSaP will welcome a number of new interns funded by the AHRC, BBSRC, ESRC and NERC. Read here what our previous interns have said about their experiences.
PaCCS launches new website
The RCUK Partnership for Conflict, Crime and Security Research (PaCCS) launched their new website in December 2014. The website is the central source of information on PaCCS and features the research portfolio, upcoming events, case studies and a blog.
For more information on the CSaP Professional Development and Events programmes, please contact Jackie Ouchikh, Head of Programmes.
A debt of gratitude
CSaP would like to thank the David and Claudia Harding Foundation and the Isaac Newton Trust for their donations, and the University of Cambridge for its HEIF contribution. Without these sources of funding, the Centre's creation and continued work would not have been possible.